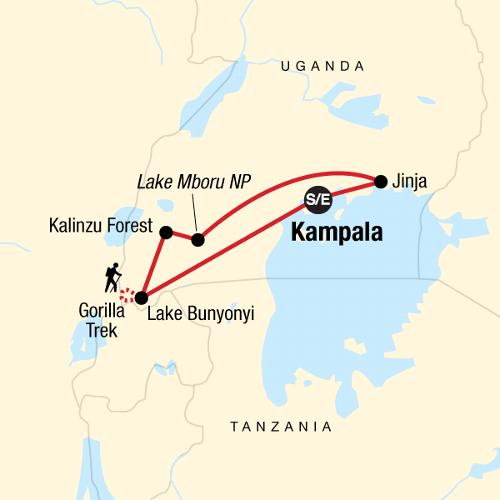 See a mountain gorilla up close and personal
Search for chimpanzees in Kalinzu Forest Reserve
Opt to raft the White Nile River
| | | |
| --- | --- | --- |
| FastDeal # | Departs | From |
| #T65403 | Jan 6, '19 | See Price |
| #T65415 | Jan 20, '19 | See Price |
| #T65416 | Jan 27, '19 | See Price |
| #T65422 | Feb 3, '19 | See Price |
| #T99652 | Feb 20, '19 | - Sold Out - |
| #T226718 | Mar 3, '19 | - Sold Out - |
| #T99704 | Mar 6, '19 | See Price |
| #T99708 | Apr 3, '19 | See Price |
| #T99767 | Apr 17, '19 | See Price |
| #T99981 | May 8, '19 | See Price |
| #T100076 | May 22, '19 | See Price |
| #T100091 | Jun 12, '19 | See Price |
| #T100235 | Jul 3, '19 | See Price |
| #T100371 | Jul 17, '19 | See Price |
| #T100698 | Aug 7, '19 | See Price |
| #T100704 | Aug 14, '19 | See Price |
| #T100719 | Aug 28, '19 | See Price |
| #T100741 | Sep 11, '19 | See Price |
| #T100764 | Sep 18, '19 | See Price |
| #T100792 | Oct 9, '19 | See Price |
| #T100809 | Oct 23, '19 | See Price |
| #T100825 | Nov 20, '19 | See Price |
| #T100863 | Dec 4, '19 | See Price |
| #T100899 | Dec 18, '19 | See Price |
| #T100928 | Dec 25, '19 | See Price |
| #T101016 | Jan 22, '20 | See Price |
| #T101067 | Jan 29, '20 | See Price |
Day 1 Kampala
Arrive at any time. (1D)

Day 2 Kampala/Kalinzu Forest Reserve
Watch the Ugandan countryside pass by on the day's journey. (1B, 1L, 1D)

Day 3 Kalinzu Forest Reserve/Lake Bunyonyi
Get up early for an included chimpanzee tracking excursion, then visit a tea plantation before setting off for Lake Bunyonyi. (1B, 1L, 1D)

Day 4 Gorilla Trek
Enjoy a guided mountain gorilla trek in Bwindi Impenetrable National Park. (1B, 1L, 1D)

Day 5 Lake Bunyonyi
Enjoy free time to enjoy the beautiful surroundings of Lake Bunyonyi. (1B, 1L, 1D)

Day 6 Lake Bunyonyi/Kampala
Return to Kampala with a stop at the Equator for lunch at the G Adventures supported AidChild Equation Cafe & Gallery. (1B, 1L, 1D)

Day 7 Kampala/Jinja
Explore Jinja, known for its outdoor and adventure activities. (1B, 1L, 1D)

Day 8 Jinja
Spend another day exploring Jinja. Opt to raft down the White Nile River, mountain bike up and down the hills or check out the local market.

Day 9 Jinja/Kampala
Transfer back to Uganda's capital where the tour finishes upon arrival in the early afternoon. (1B)

Participation camping (8 nights)
Meet mountain gorillas and the other amazing wildlife on this nine-day overland adventure. Spot chimps in Kalinzu Forest and join experienced trackers while travelling deep into the Ugandan forests for a once-in-a-lifetime opportunity to spot endangered mountain gorillas in their natural habitat. Our overland adventure vehicles (OAVs) are an adventurous and inexpensive way to see the highlights while wilderness camping will keep you in the thick of the action. Experience a world apart as you encounter the colourful cultures and wild landscapes of Uganda.
Your G for Good Moment: AidChild Equation Cafe & Gallery, Kayabwe Your Discover Moment: Jinja
Entrance and chimpanzee tracking in Kalinzu Forest Reserve
Tea plantation visit
Guided mountain gorilla trek with permits
All transport between destinations and to/from included activities.
Participation camping (8 nts).
7 breakfasts, 6 lunches, 7 dinners.
Transportation: Overland adventure vehicle (OAV), minibuses, walking.
2 Chief Experience Officers (CEOs) throughout as head guide/cook and driver, certified mountain gorilla trackers.
Small group experience; Max 22, avg 20.
Please ask your Vacations To Go travel counselor for more information.